Our Trip to Carrickfergus Castle
P3 had a brilliant trip to Carrickfergus Castle on Friday 8th June. We went on Jim's bus and stopped at Loughshore Park to have our break.
When we arrived at the castle we met Simon our guide. Simon told us about the entrance of the castle and how important it was when enemies attacked. If the enemy got through the gate, the soldiers let down the portcullises and poured horrible stuff over them!!
Next, we went to see the keep. We saw the servery, where meals were prepared and then we went to the banqueting hall, where they had big parties. We also saw the solar room where the royal family slept.
We came back down by the spiral staircase. It was quite tricky, especially with the trip step, but we all got to the bottom safely.
We then had great fun dressing up.
We dressed up as kings, queens, princesses, princes, knights and soldiers.
After we left the castle, we went back to the park and had our lunch. Before we got back on the bus, we played in the park.
Graham's Bakery visit
P3 had a great morning at Graham's Bakery looking at all the different stages and processes involved in cake making. We bought lots of goodies back to school with us!
P3 made their own butter and bread which they then ate. It was very tasty and enjoyed by most!
Maths day activities and winners!
We cut up fruit and veg and made observational drawings. The results were excellent.
The children enjoyed dressing up as part of the Amazing Journey event.
We hope you liked our Mother's Day flowers which were carefully and beautifully made.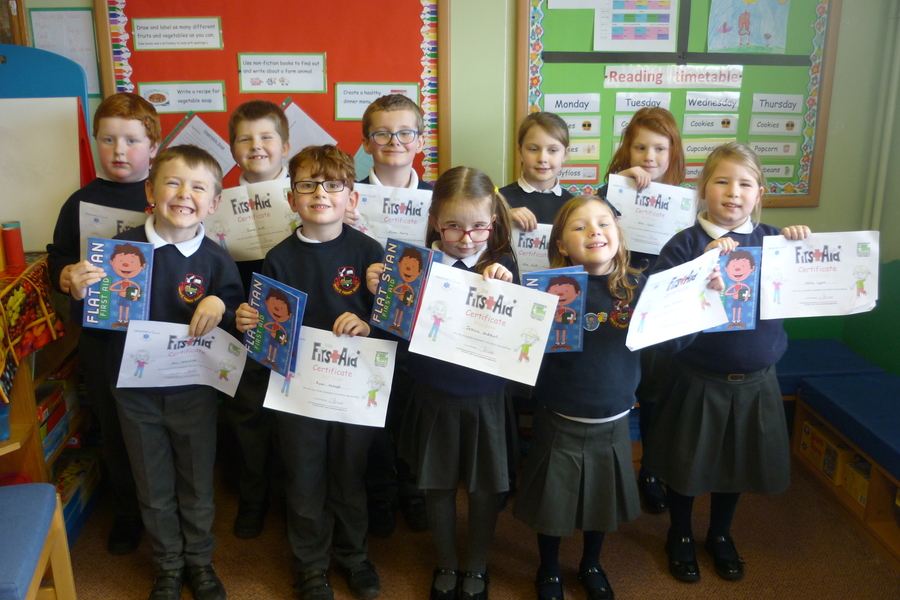 What fun and mess we had building the Three Little Pig's houses of straw, sticks and bricks!
Making Mother Bear's Porridge
Guide dog visit
We had a wonderful visit from the lovely David and Paxton on Thursday 23rd November. Such a lot of interesting information was shared and the children asked some excellent questions. David showed us a talking watch, a brail watch, a couple of canes and some glasses that represented the visual impairment that some conditions cause. Paxton was obedient, gentle and friendly, and he loved the attention and petting.
We had a fun time doing a taste test. Not everything tasted as we expected...
We had a lovely time in the wild area and made some great posters from the things we collected.
Dressing up for Children in Need
Useful websites to support learning in P3
www.ictgames.com