Welcome to our P2 page!
You can keep up to date with everything that is happening in our class during 2017-2018!
Enjoying our first days in P.2.
Children in Need!
The theme was 'What I want to be.....'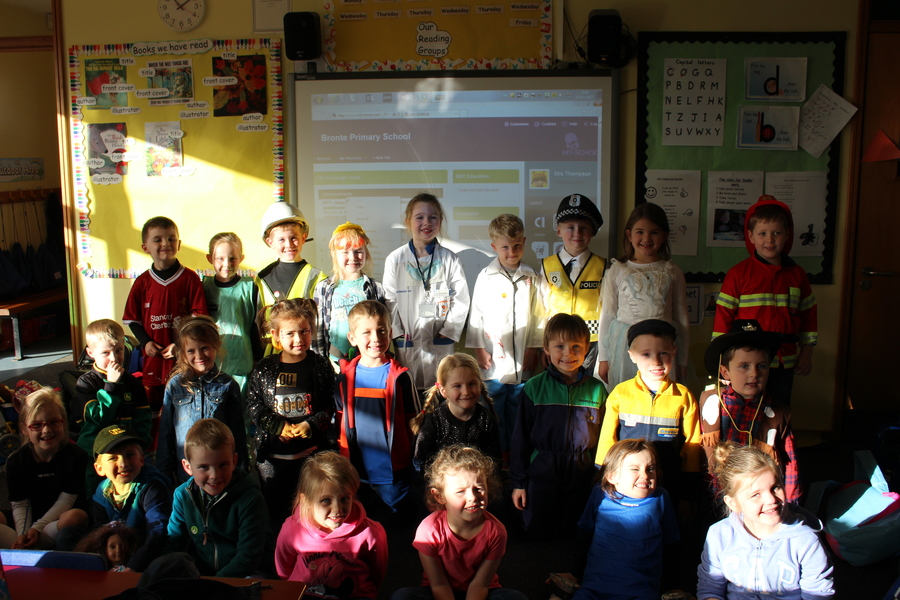 Autumn Pictures
We gathered up leaves, both from home and in school to create leaf faces! We read 'The Leaf Man' in class which gave us the idea!
Class Trip to Armagh Museum!
We had an enjoyable trip to Armagh Museum to learn about toys from the past. We also made aeroplanes and peg dolls to take home!
Christmas Trip to W5.
We got to meet Santa and have a ride on the Polar Express!
All aboard....
The Big Garden Bird Watch!
We went bird watching in school this week and made bird feeders to use at school and at home!
It is Pancake Day!!!
We were very busy making, and tasting pancakes today in school....YUMMY!!!
Love is in the air!
Happy St. Valentine's Day!
Today we made St. Valentine's Day gifts for those we love the most!
Some of our class took part in First Aid training....perhaps we will see them as budding doctors and nurses in the future!
Mrs Sterritt and the Nursery children very kindly gave P2 an Easter present! They were very busy making gingerbread houses and P2 very quickly ate it!
Thank you, it was yummy!!!
MATHS DAY 2018!
We had so much fun today at school! We played giant Snakes and Ladders, Hook-a-duck, Giant Connect 4, had a bean bag throw and played with dominoes too!!!
Well done everyone and to our class prize winners also!
SPRING HAS SPRUNG!
P2 have been making the very most of the warm weather today! We got to play outside and loved it!